All Eyes on the Amazon (AEA) supports the fight against deforestation and environmental degradation by defending the rights of Indigenous peoples and local communities. The program combines state-of-the-art technology, like satellites and drones, with local knowledge. We detect and record deforestation, and territorial and human rights violations, and try to end them.
Why should we protect the Amazon?
The Amazon is made up of a mosaic of ecosystems and vegetation types including rainforests, seasonal forests, deciduous forests, flooded forests, and savannas. This is the world's largest rainforest and is home to more species of plants and animals than any other terrestrial ecosystem on the planet. The rainforest is crucial for keeping global warming below 1.5 degrees, but it is reaching a tipping point. Deforestation and forest fires have consumed 18 percent of its tree cover, and the forest is now emitting more carbon than it captures. Moreover, up to 65 percent of the territory is in danger of turning into a savannah over the next 50 years.
This increasingly worrying scenario is reaching a point of no return. It is accelerating the climate crisis and threatening the survival of over 10 percent of all species of plants and animals on Earth. Not to mention more than 400 Indigenous peoples, keepers of ancestral knowledge and guardians of the forest.
Indigenous people and local communities living in the Amazon play a crucial role in ending the destruction of the rainforest and protecting it sustainably. However, the pressure on Indigenous peoples and their territories is greater than ever: deforestation, ecosystem degradation, extraction of natural resources, human rights violations, territorial invasions, and the long-term effects of COVID-19 threaten their survival and ways of life.
How we work
All Eyes on the Amazon gathers information about the destruction of the forest. We analyze satellite images, record deforestation, and detect environmental degradation and rights violations with drones, smartphones, and technological apps. This helps us map the territory as well as store and present the information safely and effectively. We make full use of technological solutions and local knowledge to help defend the interests of Indigenous peoples. We also strategically employ all evidence gathered in our advocacy, awareness campaigns, and legal actions. Finally, we promote collective learning, exchange, and the creation of alliances and networks amongst partner and ally organizations.
Where
AEA acts regionally and in national processes for the defense of the Amazon Basin in Brazil, Ecuador, and Peru, and also at the local level in eight Amazonian territories threatened by human rights and environmental violations.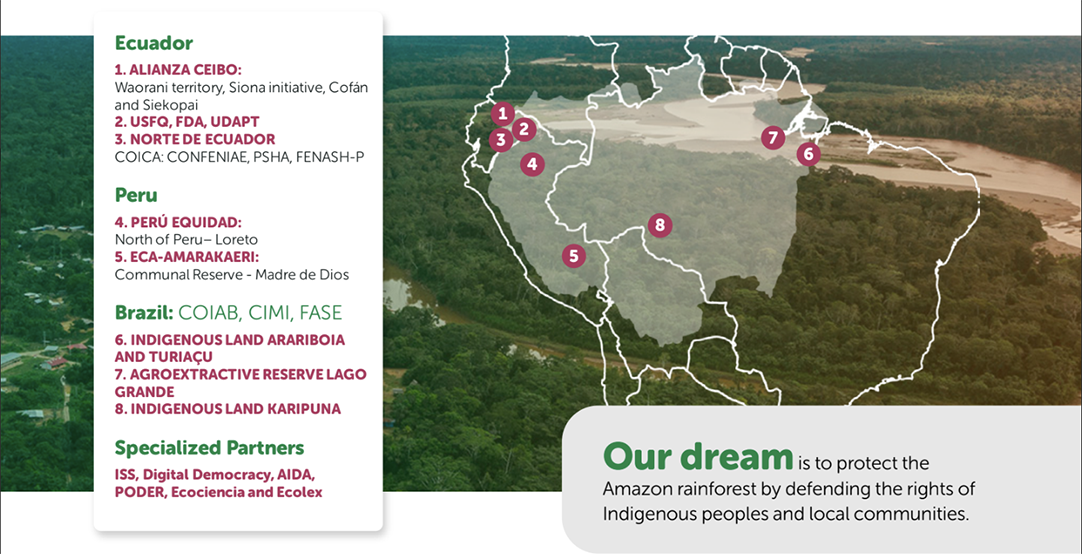 Selection of results
Thanks to All Eyes on the Amazon, almost 7 million hectares of rainforest were monitored in Brazil, Ecuador and Peru.
1,600 Indigenous and community monitors were trained to collect evidence of deforestation.
The data collected was used to take four strategic cases to court. In Ecuador, this evidence led to a landmark ruling protecting 79,000 hectares of rainforest.
To this day, the program's online learning platform connects Indigenous communities and shares valuable lessons and strategies about defending the Amazon with almost 10,000 users.
Period and budget
2017-2020: €14.8 million contribution from the Dutch National Postcode Lottery's Dream Fund
2021-2022: €4 million additional contribution from the Dutch National Postcode Lottery
Our partners
All Eyes on the Amazon is a unique coalition led by Hivos, Greenpeace, and the Coordination of Indigenous Organizations of the Amazon Basin (COICA).
Access the full list of AEA partners
The AEA program has to an end in September 2022. For funding interest, contact María Moreno de los Ríos, AEA Program Manager at mmoreno@hivos.org
For more information about the program access www.alleyesontheamazon.org