AfriFOODlinks: African cities leading a new era of food system collaboration
This ambitious project charts a new path for urban food systems in Africa by coordinating innovative action and knowledge exchange between Africa and Europe. AfriFOODlinks is groundbreaking, as it is one of the largest EU Horizon Grants awarded to a consortium led by African institutions.
African urban food systems need bold transformation
Africa is currently undergoing an immense transition, with its urban population experiencing rapid growth. Totaling some 548 million (43%) in 2018, it is projected to reach 1.489 billion (59%) by 2050. This pace puts cities and their governments at the center of efforts to address high levels of food insecurity, poverty, and malnutrition. AfriFOODlinks therefore aims to meaningfully impact at least 65 cities by connecting them to the collaboration and knowledge sharing between 26 partners in Africa and Europe.
Linking up cities to drive global sustainability
AfriFOODlinks will help local governments, their partners, and their citizens change the way they do research, make decisions, and resource businesses and infrastructure development to effectively transform their food systems.
The project facilitates collaboration among cities, because there is no one-size-fits-all solution to developing productive and sustainable urban food systems. By sharing knowledge and developing locally relevant solutions, cities can strengthen their food systems to improve food security and provide citizens with affordable nutritious food.
Improving food security and urban sustainability
AfriFOODlinks aims to create a conducive environment for improving food security and urban sustainability in African cities by:
1) transforming urban food environments and promoting public shifts to sustainable healthy diets
2) promoting inclusive multi-actor governance to empower public officials, established and informal small businesses, communities, youth and women with ownership and agency to shape their food systems
3) accelerating innovative, women and youth-led agri-food businesses to support local value addition and inclusive economic participation
Knowledge hub
As part of its efforts, AfriFOODlinks is curating a crowd-sourced centralized knowledge repository for key resources about urban food systems. The knowledge hub offers a variety of resources, including city strategies and policies, reports, infographics, photo essays, poetry, and more. These diverse forms of knowledge and creative storytelling, often overlooked in mainstream research, provide vital information about how we experience food systems and the food systems themselves.
Where
Over 65 cities worldwide. Hivos will be in charge of operations in Tunis.
Project activities in Tunis
The entire project's work and research is managed through seven work packages. Hivos is responsible for implementing all AfriFOODlinks activities in Tunis and leading on Multi Actor Involvement (work package 2). The project falls under Hivos' climate justice impact area.
Hivos is building a local team in Tunis and works with local partners. We also receive guidance from other consortium partners, particularly those leading different work packages.
Hivos' multi actor work package strengthens multi-stakeholder governance processes by sharing best practices and tools and providing technical support. Hivos will collaborate closely with other work package leads to facilitate and integrate all activities carried out in Tunis by project partners. These activities include: circular agribusiness & innovation; improving food environments for urban consumers, schools and food retailers; and other research and knowledge-creation and sharing initiatives.
Period
December 2022 to November 2026
Partners
More than 26 partners from across Africa and Europe:
Funder and coordinator
The European Union, ICLEI Africa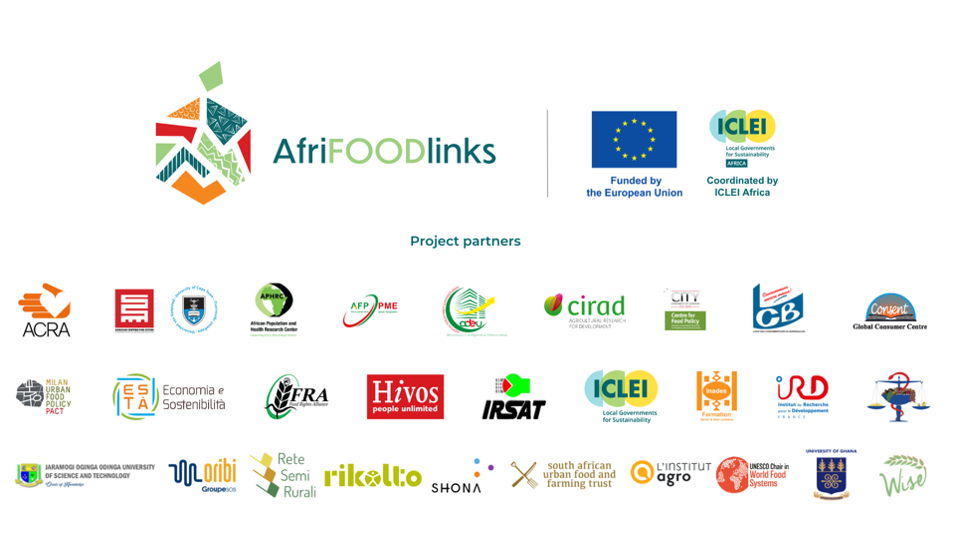 Contact persons
Regarding project activities run by Hivos in Tunis:
Emna Mornagui, emornagui@hivos.org
Regarding the entire project:
Dr Luke Metelerkamp, luke.metelerkamp@iclei.org